2019 Season
Brunswick Actors' Theatre
All performances are Saturdays at 8pm / Sundays at 3pm
Doors open 45 minutes prior to curtain
$25 PER PERSON (desserts and beverages included)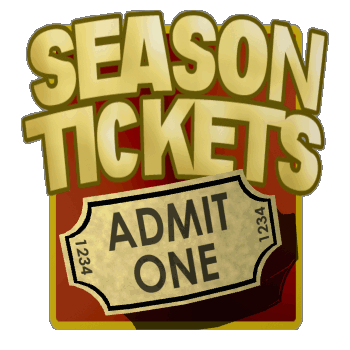 SHOWSTOPPERS
February 9, 10, 16, 17, 23, & 24, 2019 SPECIAL ENCORE PRESENTATIONS MARCH 2nd & 3rd
Guest Director: Gail Butler
​
Presenting songs & performances by local talent that are "show stopping".
Includes "song & dance" numbers that will have you up and dancing in the aisle.
LETTICE AND LOVAGE by Peter Shaffer
April 6, 7, 13, 14, 20, 21, 2019 SPECIAL ENCORE PRESENTATION MAY 3rd
Director: Lynda Dalton-Gallagher
​
Lettice Duffet, an expert on Elizabethan cuisine and medieval weaponry, is an indefatigable but daffy enthusiast of history and the theatre. As a tour guide at Fustian House, one of the least stately of London's stately homes, she theatrically embellishes its historical past, ultimately coming up on the radar of Lotte Schon, an inspector from the Preservation Trust. Neither impressed nor entertained by Lettice's freewheeling history lessons, Schon fires her. Not one to go without a fight, Lettice engages the stoic, conventional Lotte in battle to the death of all that is sacred to the Empire and the crown. This hit by the author of Equus and Amadeus featured a triumphant award-winning performance by Dame Maggie Smith in London and on Broadway.
​
A Higher Place in Heaven by Pamela Parker
June 27, 28, 29, & 30, 2019
Director: Lynda Dalton-Gallagher
​
SORDID LIVES by Del Shores
August 10, 11, 17, 18, 24, & 25, 2019
Guest Director: Jackie Gordon
A black comedy about white trash! The author of Daddy's Dyin' (Who's Got the Will?) brings you a comedy that was nominated for over thirty awards during its long run in Los Angeles. When Peggy, a good Christian woman, hits her head on the sink and bleeds to death after tripping over her lover's wooden legs in a motel room, chaos erupts in Winters, Texas.
​
The Revolutionists by Lauren Gunderson
October 19, 20, 26, & 27, November 2, 3, 2019
Director: Lynda Dalton-Gallagher
​
THE STORY: Four beautiful, badass women lose their heads in this irreverent, girl-powered comedy set during the French Revolution's Reign of Terror. Playwright Olympe de Gouges, assassin Charlotte Corday, former queen (and fan of ribbons) Marie Antoinette, and Haitian rebel Marianne Angelle hang out, murder Marat, and try to beat back the extremist insanity in 1793 Paris. This grand and dream-tweaked comedy is about violence and legacy, art and activism, feminism and terrorism, compatriots and chosen sisters, and how we actually go about changing the world. It's a true story. Or total fiction. Or a play about a play. Or a raucous resurrection…that ends in a song and a scaffold.
​
AND THE WINNER IS by Mitch Albom
December 7, 8, 14, 15, 21, & 22, 2019
Guest Director: Bob Boles
​
AND THE WINNER IS tells the comic story of Tyler Johnes, a self-obsessed movie star, who is finally nominated for an Oscar, then dies the night before the awards. Outraged at his bad luck and determined to know if he wins (even though he's dead), he bargains with a heavenly gatekeeper to return to earth for the big night. Along the way, he drags his agent, his acting rival, his bombshell girlfriend and his ex-wife into the journey, in a wildly twisting tale of Hollywood, the afterlife, and how we are judged.